Due to continuous technological advancements in various fields and industries, goods and services are becoming more and more innovative and convenient. From computers to home appliances, technology is revolutionizing the way these devices were used. One such technology is the use of remote controls. From exercise equipment to toys, cool lights and fans; everything comes with a remote-control option.
There is no doubt that such technical advancements can make our lives more productive and easier by saving our time and energy. Earlier, only air- conditioning systems were operated through a remote control.
Also Read: Modern Ceiling fan with Remote
But today, you can find such ceiling fans in the market and online that can also be operated by a remote control. This makes it easier for users to adjust the speed or switch the fan on or off through their remote instead of doing it manually. Several factors need to be understood when planning to purchase a good ceiling fan. Here is what you need to know about remote controlled ceiling fans:
Height of the Ceiling of Room
It is important to check for the height of your ceiling when purchasing a ceiling fan. You might want a fan that is high enough for your safety. In case your ceiling is not more than nine feet high, you might want to opt for a flush mount fan for the room. At such heights, it is considered as a safe option and it eliminates any chances of accidents. Its blades are designed to stay close to the ceiling when switched on.
Size of Blades of Fan
Another important thing to consider when choosing a remote controlled ceiling fan is its blades. You need to check the length of the fan's blades and the size of your room before planning to buy one for yourself. You need to make sure that the fan has an appropriate blade span according to the size of your room. A ceiling fan is usually measured by the size of its blade span. A blade span is simply the diameter of the circle that appears when the fan is turned on and its blades starts to rotate.
Cost-effectiveness
Most of the ceiling fans that are manufactured today come with a  remote control.  Although these remote operated fans are slightly more expensive than conventional ceiling fans, however, the convenience and comfort that these remote operated ceiling fans provide is worth the price tag of these fans.
Proper Installation
The entire process of installation of a remote controlled ceiling fan is quite simple and can be easily done without any help or supervision of a professional electrician. However, if you are installing a remote controlled ceiling fan for the first time, it is recommended that you acquire complete knowledge about the product and its installation.
Various Features of Fans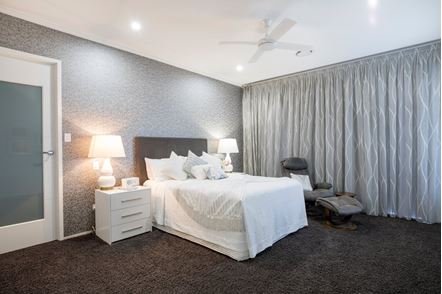 Remote operated fans come with a variety of different features and functions. Once can easily select one according to his budget, style and size of the area where the fan is to be installed.
While installing a remote operated ceiling fan, you need first make sure that the remote control is equipped with the required batteries. You need to check the junction box as well. You need to make sure if it can bear the weight of the ceiling fan or not.
The second step is the installation of the fan itself. Try reading the manual of the new fan first to become familiar with different parts and the motor of the fan. This will help you to install it easily without any problems within the first attempt. The third step is securing your fan's housing with screws. A bulb is then fixed to the fan's housing. Finally, the blades  are attached to the fan.
Process of Repairing
If your old remote powered ceiling fan stops working or gets damaged, then you should consider a few things before planning to repair or exchange it.
The first thing you need to consider in such a situation is to analyze the market value and the durability of your old fan. You need to calculate the total expenditure of purchasing spare parts and other repairing expenses. It is recommended to check the receiving and reversing modules and well as the remote control itself that be be the reason behind the poor functioning of your ceiling fan.
Presently, there are a variety of different remote powered ceiling fan available in markets and online. You can check for customer reviews and ratings before planning to buy one for yourself. You also need to check the size of your room and invest in a fan accordingly.